Our monthly update on new airliner liveries, deliveries, special schemes and prototypes to watch out for in our skies.
Here's the list for August 2018:
Air China's First A350
The airline's first Airbus A350 has been delivered, registration B-1086, wearing the standard scheme.
Alaska Airlines Sub Pop
Alaska Airlines has painted special Sub Pop markings on 737-800 N587AS. Sub Pop Records is a Seattle-based record label celebrating its 30th anniversary.
Astral Aviation 747
The cargo carrier's titles are painted on Air Atlanta Icelandic's Boeing 747-400F TF-AMM. Seen taking off in late suset from Malta Airport after new livery and markings at Aviation Cosmetics Malta.
California Pacific
The newly rebranded airline has its first Embraer 145 wearing the new livery, registration N286SK.
easyJet's First A321neo
Officially handed over at the Farnborough Air Show, the low-cost carrier's first A321N is G-UZMA.
Egypt Air A330 P2F
The African airline's cargo division has taken delivery of the first Airbus A330-200 P2F (passenger-to-freighter) conversion, SU-GCE.
El Al's Retro 787
The next Boeing 787 Dreamliner delivery for El Al, 4X-EDF wears a special retro scheme harking back to the airline's past.
Enter Air Merian Caldwell Cooper scheme
Merian Caldwell Cooper is honoured on Enter Air's 737-800 SP-ENX as part of the Poland 100th Anniversary celebrations.
HiFly A380
Already flying for a range of airlines on lease, the HiFly A380 9H-MIP wears this livery promoting coral reef preservation.
Jeju Air's First 737
The first directly bought Boeing 737-800 delivered to Jeju Air is HL8316.
Sichuan Airlines First A350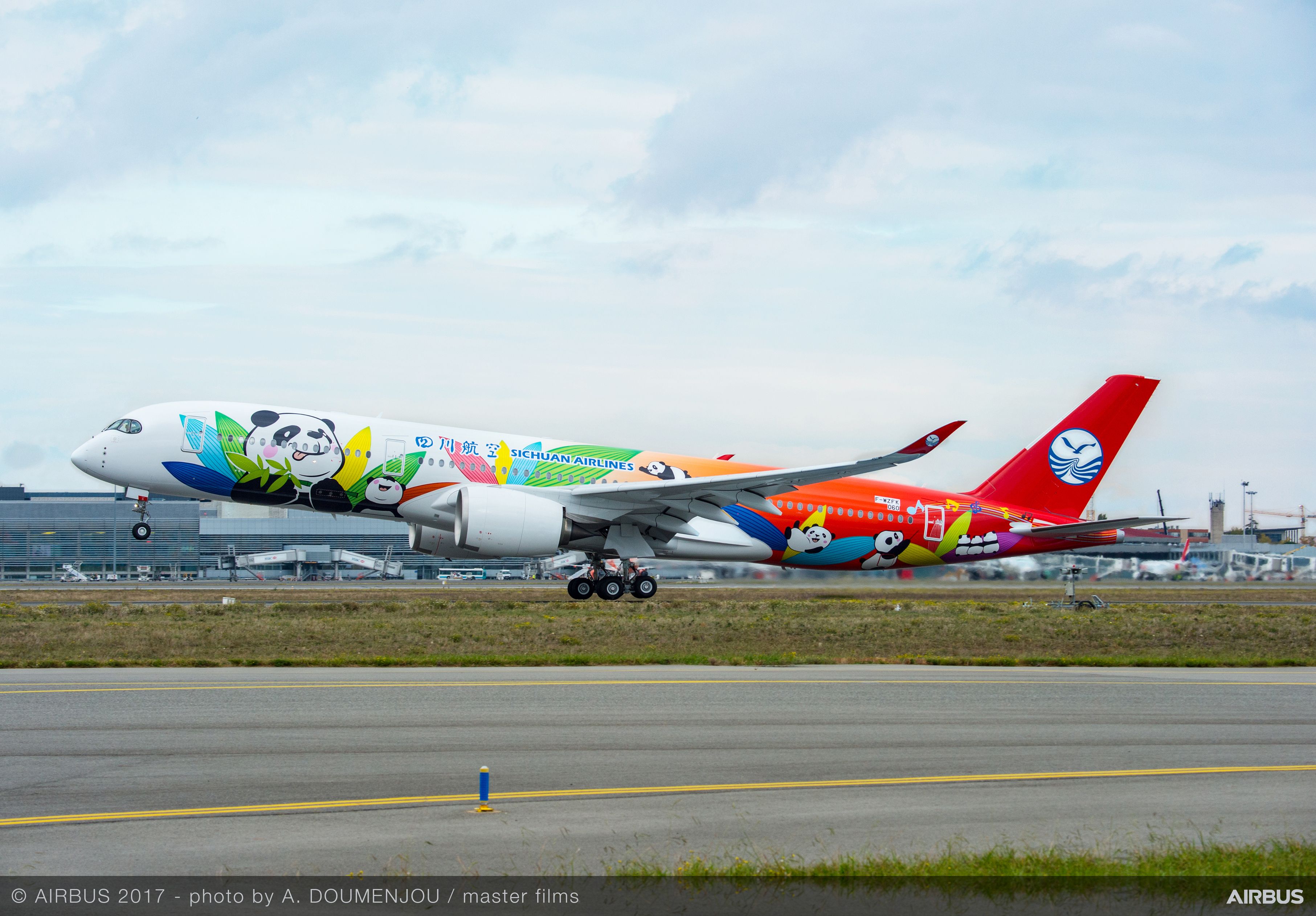 Another Chinese carrier receiving its first Airbus A350. Sichuan Airlines has taken delivery of B-301D in this special "Panda" scheme.
Tianjin Airlines A330-300
The first A30-300 delivered to Tianjin Airlines is B-1045.
Turkish Airlines A321neo
The Turkish carrier has taken delivery of its first Airbus A321neo aircraft, TC-LSA.
Vueling's First A320neo
Finally, Vueling has taken delivery of Airbus A320neo EC-MZT.