The Boeing 747 first flew in 1969, more than 50 years ago. It went on to become one of the most iconic airliners of all time.
Yet sadly, the future of the aircraft is in doubt, with very few aircraft orders left to be built and a global downturn in aviation forcing airlines to focus on smaller, more fuel-efficient aircraft types.
The 747s that do remain in service are mostly operated as freighters, hauling cargo in their huge interiors.
Only a few airlines still fly passenger 747s, including the more recent -8 variant.
Preserved 747s
There are, thankfully, lots of Boeing 747s that have been preserved in museums and for other uses. So we will be able to see and visit the aircraft for a long time.
Here are the preserved 747s we know about.
Asia
China
B-2468, Boeing 747-4J6, was moved to Beijing's Shijingshan Amusement Park where it will become and aviation-themed restaurant for visitors.
Indonesia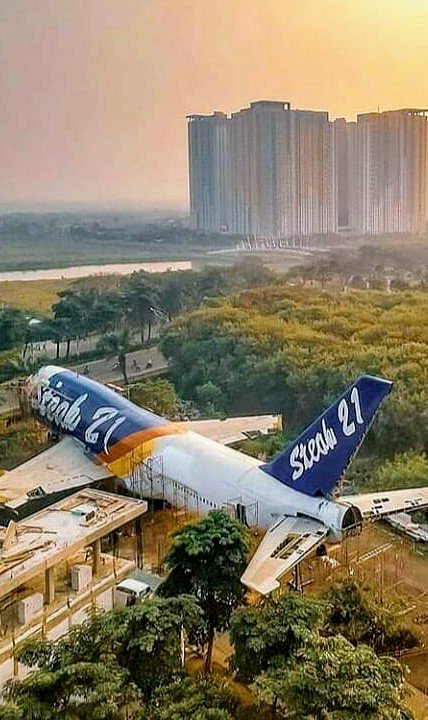 PK-LHF, Boeing 747-412. An aircraft that flew for lots of operators, including Singapore Airlines, Air Atlanta Icelandic and latterly Lion Air, before being retired. It is now in use at the Steak 21 restaurant in Bekasi, Indonesia.
Japan
N642NW, Boeing 747-212B. The nose section of this former Northwest Airlines aircraft is preserved at the Museum of Aeronautical Science outside Tokyo Narita airport in Japan.
Pakistan
AP-BFV, Boeing 747-367, formerly of Pakistan International Airlines. It is preserved outside Karachi International Airport.
South Korea
HL7463, Boeing 747-2B5B. Not really one you can visit easily, this aircraft is based at the Korean Air Flying School at Jeongseok Airport on Jeju Island. There are a couple of other interesting airliners there.
Thailand
HS-TGR, Boeing 747-4D7. This former Thai Airways aircraft was dismantled, transported to Chai Nat, where it has been reassembled and will hopefully become a restaurant.
HS-TGT, Boeing 747-4D7. Still wearing basic Thai Airways colours, this aircraft which was retired in 2017 has been reassembled at Chic-Chic Market, Nong Khai. It may be a composite of both HS-TGR (see above) and HS-TGT. Can anyone confirm?
HS-UTB, Boeing 747-246B, last flew for Orient Thai Airways. It is now being preserved, possibly as a restaurant, at Airplane Park Korat, near Suranaree U. in Thailand.
HS-UTR, Boeing 747-246B, is now in a sorry-looking state by the side of the road at Kasemchai Fish Farm at Nakhon Pathom, Thailand. It was dismantled and transported here in 2014.
Australasia
Australia
VH-EBQ, Boeing 747-238B. A classic former workhorse of Qantas is one of a number of interesting aircraft preserved at the Qantas Founders Outback Museum in Longreach. See https://qfom.com.au/
VH-OJA, Boeing 747-438, was Qantas' first 747-400. It was flown to Illawarra Regional Airport in 2015 and preserved at the Historical Aircraft Restoration Society.
Europe
France
F-BPVJ, Boeing 747-128. Once part of the Air France fleet, this aircraft is preserved and open to the public at the Musee de L'Air et de L'Espace at Paris Le Bourget airport. Here's a trip report https://www.airportspotting.com/paris-le-bourget-air-space-museum/
F-GDUA, Boeing 747-3B3. This aircraft flew for French airline UTA and was involved in an unfortunate cabin fire on the ground at Paris Charles de Gaulle in 1985. As a result the aircraft was scrapped, but the cockpit and forward fuselage remain at Merville, France.
Germany
D-ABYM, Boeing 747-230B. How strong would poles have to be to hold a 747 up? Here at the Auto & Technik Museum in Speyer, Germany, you can find out! This former Lufthansa 747 is mounted with its nose pointing high in the air. You can even climb on board! See https://speyer.technik-museum.de/en/boeing-747
S2-ADT, Boeing 747-269B. The cockpit of this former Kuwait Airways machine is on display at the Sinsheim Auto & Technik Museum in Germany.
Greece
SX-OAB, Boeing 747-284B, rests patiently at the old airport near central Athens. It sits among some stablemates from the former Olympic Airways fleet in the hope that one day a museum will be opened around the aircraft.
Netherlands
PH-BFB, Boeing 747-400 in Corendon colours parked outside Corendon Village Hotel next to Amsterdam Schiphol airport. (see https://www.airportspotting.com/klm-747400-corendon-colours-display-amsterdam-hotel/)
PH-BUK is a Boeing 747-206B (SUD) – that is, a 747-200 that had its upper deck stretched to make it like a -300! It flew for KLM from 1978 and in 2004 was dismantled and taken by road, canal and barge to the Aviodrome museum at Lelystad, where it is open to the public.
Spain
EC-IAF, Boeing 747-256B. The nose section of a former Iberia 747 now preserved in the small Museo Nacional De Ciencia Y Tecnologia at A Coruña in north west Spain. See http://www.muncyt.es/
Sweden
N981JM, Boeing 747-212B used as the JumboStay hostel near the entrance to Stockholm Arlanda Airport. The interior is partitioned into rooms to stay in. See http://www.jumbostay.com/
United Kingdom
G-BDXJ, Boeing 747-236B, which once flew for British Airways and European Air Charter, is based at Dunsfold Aerodrome in Surrey, England. It has been used as a film prop. Its future is uncertain with the airfield due for development.
G-CIVW, Boeing 747-436, recently retired by British Airways is also now at Dunsfold Aerodrome, to be used as a film prop.
G-MKGA, Boeing 747-2R7F. Most airliners that come to Kemble Cotswold Airport in southwest England end up being scrapped. This former freighter 747, however, was saved (so far!) and has been used as an event venue and for marketing and TV work.
USA
Atlanta, GA
N661US, Boeing 747-451. The prototype Boeing 747-400, which went on to serve Northwest Airlines and Delta Air Lines from 1989 to 2015 is now preserved at the Delta Air Transport Heritage Museum outside Hartsfield-Jackson International Airport in Atlanta.
Houston, TX
N905NA, Boeing 747-123. This plane originally flew for American Airlines, but was more famous later in life as one of the Shuttle Carrier aircraft for NASA. You may have seen the huge, bulky 747 carrying a Shuttle on it's back. This is preserved at the Johnson Space Center in Houston.
Los Angeles, CA
N219BA, Boeing 747SR-81. This aircraft is an exhibit at Universal Studios Hollywood, and you'll see it on the Backlot Tour. It has been used in films. However, be aware that it is in sections with parts missing to resemble a crash scene.
McMinnville, OR
N481EV, Boeing 747-132, is positioned on the roof of the waterpark at the Evergreen Aviation Space Museum & Captain Michael King Smith Educational Institute. It's quite a sight!
N482EV, Boeing 747-212B. Also at McMinnville is this former Evergreen 747 freighter. It is planned to turn it into a hotel.
North Kingstown, RI
View this post on Instagram
N485EV, Boeing 747-212B. Having flown last for Evergreen International, this aircraft was transported by road and sea to Rhode Island and painted in Air Force One colours at the Air Force One Experience, due to open this year. See https://www.airforceoneexperience.com/
Oklahoma, OK
N610AR, Boeing 747-128. Having flown for Air France between 1974 and 1993, this aircraft went on to be used as a test airframe at the Mike Monroney Aeronautical Center at Oklahoma City's Will Rogers International Airport. Reports state that only the fuselage remains.
Palmdale, CA
N911NA, Boeing 747SR-46. Another former Shuttle Carrier 747, this one is preserved at the Joe Davis Heritage Park at Palmdale Air Force Base in California. It started life flying domestic routes in Japan as JA8117.
San Carlos, CA
G-AWNG, Boeing 747-136. The nose section of this former British Airways 747 is preserved at the Hiller Aviation Museum in San Carlos.
Seattle, WA
N7470, Boeing 747-121. This is the original 747; the very first one to fly in February 1969. It is preserved now at the Museum of Flight at Boeing Field, Seattle.
Tuscon, AZ
N747GE Boeing 747-121, a former Pan Am machine used for many years as an engine testbed for General Electric. Now preserved at the Pima Air & Space Museum.
Washington DC
N601US, Boeing 747-151. Only the forward section, this Northwest Airlines aircraft is inside the National Air & Space Museum on The Mall, Washington DC.
Africa
South Africa
Rand Airport, South Africa
ZS-SAL, Boeing 747-244B. The cockpit section of this aircraft is preserved in the Flyers Café near Johannesburg Airport. This is a good spotting location at Johannesburg, so worth visiting!
ZS-SAN, Boeing 747-244B. One of two Boeing 747s preserved at the South African Airways Museum at Johannesburg Rand Airport.
ZS-SPC, Boeing 747SP-44. A rare example of a preserved 747SP. Again, it is at the South African Airways Museum at Rand Airport, in full SAA colours.
Middle East
Iran
EP-ICC, Boeing 747-2J9F, of Iran Air Cargo is now one of the exhibits at the Tehran Aerospace Exhibition Centre near Mehrabad International Airport.
Saudi Arabia
HZ-AIS, Boeing 747-368. This aircraft was dismantled, transported to Abha and up a hill overlooking the town, where it was reassembled. The plan was to turn it into a restaurant, but little has happened since. Watch this space!