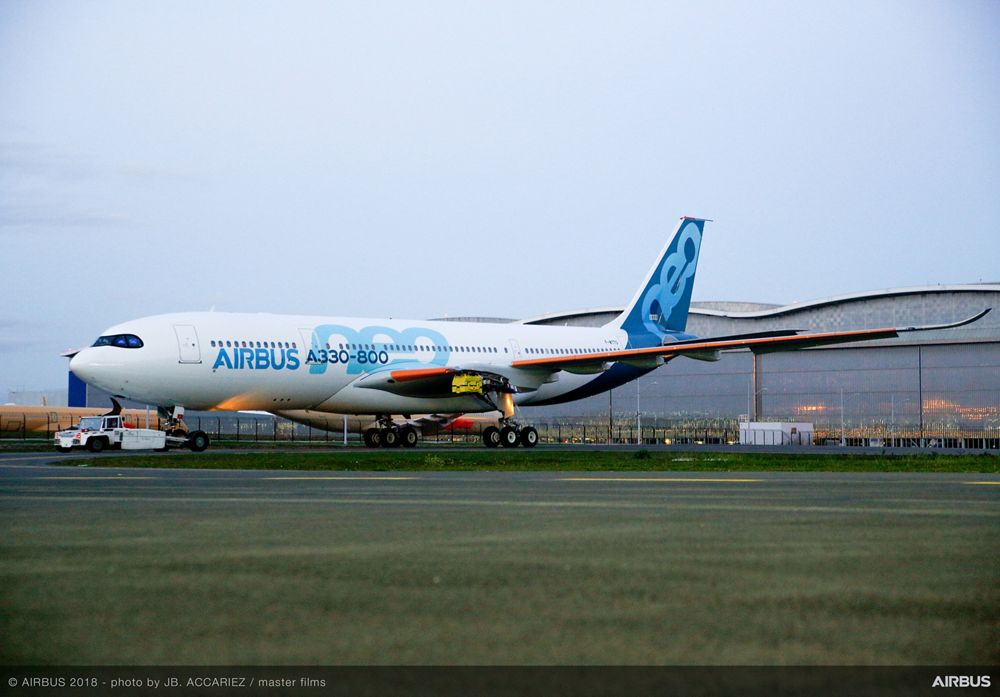 The next aircraft from the Airbus stable has been rolled out of the factory, freshly painted, at Toulouse.
This is the smaller variant of the new type, which advances the popular A330 wide-body aircraft with new engines and a host of other modifications and improvements. The larger A330-900neo first flew in October 2017 (we reported it here) and is on track for certification.
Now, the -800 model will soon join the certification process. Customers which have ordered the A330-800neo include Hawaiian Airlines.
The A330-800 is the new generation 250-seater from Airbus' leading twin-aisle family. With its 242-tonne Maximum Take-Off Weight (MTOW) as the base variant, the A330-800 can operate routes of up to 7,500nm and with the recently launched 251-tonne MTOW variant, the aircraft can operate ultra-long-range routes of up to 8,150nm. The A330-800 will leverage the A330-200's proven versatility, popularity and reasons for success, offering new-generation economics.
Building on the success of the A330-200 with over 600 aircraft in operation, the A330-800 brings new-generation economics and comfort in addition to unprecedented range to the 250-seat aircraft market. Together with the larger 300-seat A330-900, they share 99 percent commonality, having the same airframe, engines and cross-crew training.
This new aircraft has registration F-WTTO (msn 1888) and wears full Airbus A330neo colours.