Aha! is a new low-cost airline brand which will launch in October to offer low-cost service to regional airports in the western United States.
The airline is the new brand of ExpressJet Airlines, which was previously a United Express regional operator and has been grounded for a number of months as it underwent this transformation.
ExpressJet Airlines is the union of Atlantic Southeast Airlines and Continental Express and operates Embraer ERJ145 regional jet aircraft. Over its 35-year history, ExpressJet has flown most Embraer, Bombardier, and ATR aircraft from cities across the continental United States into airports in the USA, Canada, Mexico, and the Caribbean. ExpressJet is majority owned by KAir Enterprises with United Airlines holding a minority interest.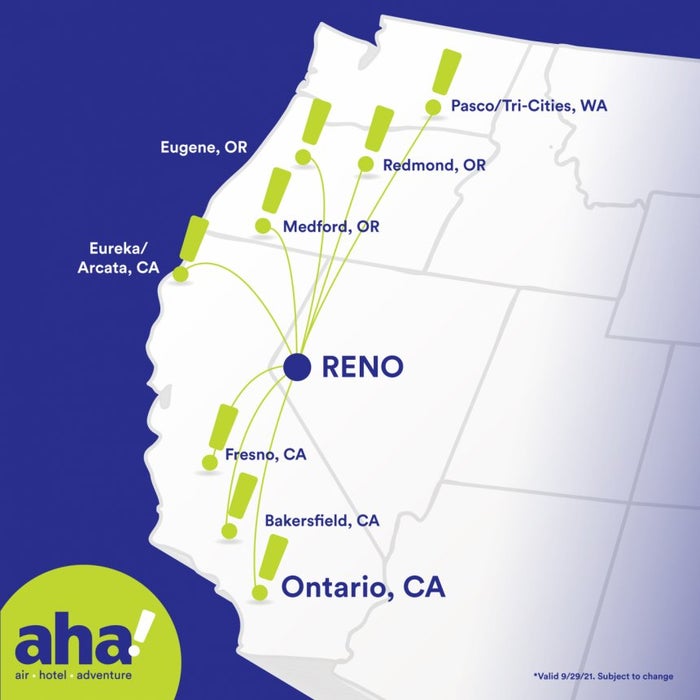 Where Will Aha! Fly
Aha! will be based at Reno Tahoe in Nevada and initially serve regional destinations in California, Oregon and Washington, including:
Pasco/Tri-Cities, Washington: Starts on Oct. 24.
Bakersfield, California: Starts on Oct. 25.
Medford/Ashland, Oregon: Starts on Oct. 31.
Eugene/Springfield, Oregon: Starts on Nov. 1.
Ontario, California: Starts on Nov. 4.
Redmond/Bend, Oregon: Starts on Nov. 5.
Eureka/Arcata, California: Starts on Nov. 9.
Fresno/Yosemite, California: Starts on Nov. 10.
Like other US recent startups (Breeze, Avelo), Aha! is focussing on unserved routes to smaller cities within 1-2 hours' flying time. It hopes to take advantage of this lack of competition in attracting leisure travellers.
Branding
Aha!  is the "air-hotel-adventure" leisure brand of ExpressJet Airlines.
Its aircraft are mostly white, with green and blue logo and titles.
The airline is focussing on inbound tourism to Reno and the Lake Tahoe region, which offers casino resorts, golfing, world-class skiing and other outdoor pursuits. It is also convenient for Burning Man, Hot August Nights, Reno Rodeo, Lake Tahoe Shakespeare Festival, Barracuda PGA Golf Championship, Reno National Championship Air Races, Lake Tahoe Snowfest, and more.
"As ExpressJet began developing post-COVID flying opportunities that fit our history of serving smaller communities with regional aircraft, we realized that the old adage of 'getting there is half the fun' has become 'just getting there burns up half the vacation'," said ExpressJet's CEO Subodh Karnik. "With so many under-served communities and the allure of Reno-Tahoe, the aha! brand model practically leapt at us."