Our monthly round-up of new airliner liveries, deliveries and types is here.
Here are July's new airliners:
Airbus A220
The CSeries has been rebranded as the Airbus A220. First aircraft is C-FFDO in full corporate colours (full story here).
Air China's First A350
The first Airbus A350-900 for Air China will be delivered in this special livery.
Air Malta A320neo
The first Airbus A320neo for Air Malta has arrived, appropriately registered 9H-NEO. It wears this special Nickelodeon paint scheme.
Air Tanzania 787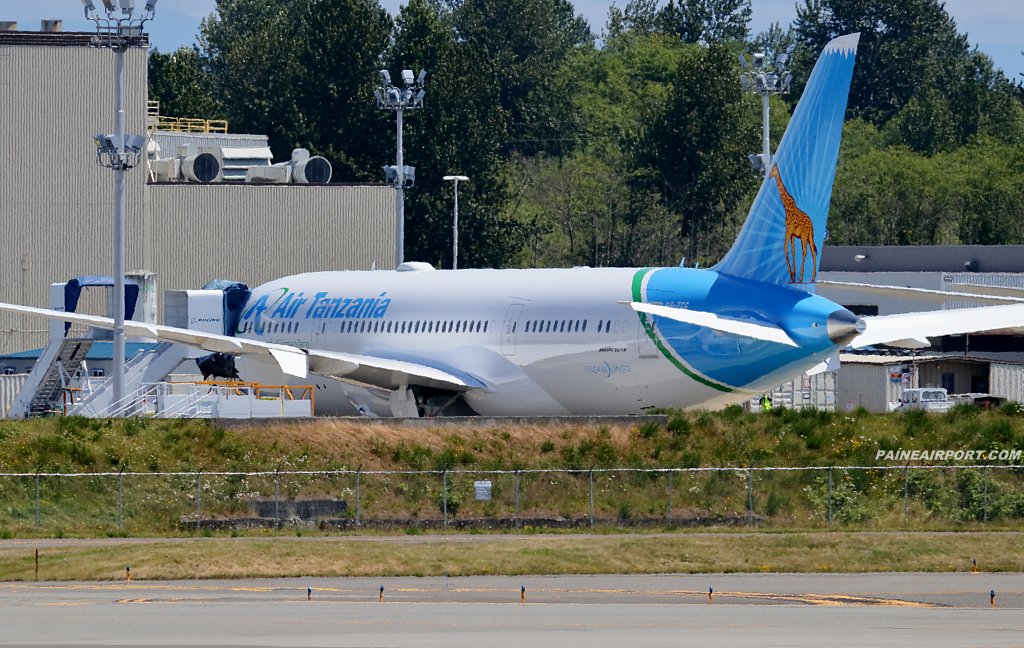 The first Boeing 787 Dreamliner for Air Tanzania has appeared, painted, at Boeing's Everett Field.
Belgian Air Force Embraer
The ERJ-135 CE-02 of the Belgian Air Force wears this special tail livery marking 70 years of 15th Wing.
Dynamic Airlines or Eastern?
Dynamic Airlines is now the third company to take on the Eastern Airlines branding, following Chapter 11 proceedings. Its Boeing 767-300 is seen here.
easyJet A321neo
The first A321neo for easyJet will soon be handed over. It is G-UZMA.
Ethiopian MAX
Ethiopian Airlines has received its first Boeing 737 MAX aircraft, registered ET-AVM.
HiFly Airbus A380
The world's first second-hand Airbus A380 is now flying for HiFly, for the moment painted all white.
LEVEL in Austria
The short-haul division of LEVEL will launch in Vienna using Airbus A321s, like OE-LCN.
LOT Polish Independence Liveries
Two new aircraft have received this special livery marking the anniversary of Poland's independence. They are Boeing 737 MAX 8 SP-LVD and 787-9 SP-LSC.
Nepal Airlines A330
The first widebody aircraft for Nepal Airlines has now been delivered, leased from HiFly. It is Airbus A330-300 9N-ALY.
StratAir
A new cargo airline brand, StratAir, is brought to you by Northern Air Cargo. Boeing 767-300 N374AA is flying in this livery out of Miami.
TAP Portgual A321neo
The first A321neo for TAP Portugal is CS-TJI, is now flying with the airline.
WestJet's New Livery Flying
You can now see WestJet's new livery flying on its Boeing 737 MAX aircraft, C-FNWD.
Don't forget to send in your pictures for next month's list!